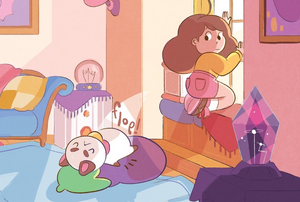 Bee and PuppyCat is an American animated series created by Natasha Allegri. The story started as an animated web series, but also officially exists in several other forms, including a comic book series and various websites.
Cartoon
Bee and PuppyCat the cartoon series began with an animated short created for Too Cool Cartoons! on Cartoon Hangover, a subsidiary of Frederator Studios. It aired in two parts. The first 5-minute episode premiered on July 11, 2013, and the second episode premiered on August 6, 2013. It was written, storyboarded, and co-produced by Natasha Allegri and was directed by Larry Leichliter. Fred Seibert serves as the series' executive producer, with producers Kevin Kolde and Eric Homan. From Cartoon Hangover:
| | | |
| --- | --- | --- |
| " | Bee is a young lady trying to make her way in the world. She often acts before thinking, which can lead her into trouble (and adventure!). She also has a strong, nurturing personality, and doesn't think twice about taking in Puppycat when he needs help. Although her laid-back-space-casey attitude and lack of skills tend to keep her from maintaining a job for long in the real world, she isn't someone who easily gives up, and with the experiences she gains at the magical temp agency she stumbles on, she'll finally have the chance to find out what she's meant to do with her life. [1] | " |
After garnering popularity online, Cartoon Hangover started its first Kickstarter project in order to make additional episodes. It received enough funding to create nine episodes.
Comic
Boom! Studios released a comic book version of Bee and PuppyCat in 2014, via their imprint Kaboom. [2]
Social Media
Bee and PuppyCat has achieved considerable popularity online, with many fans already creating fan art and cosplays showing their appreciation. It is promoted on several platforms. Some sources publish more Bee and PuppyCat posts than others.
Official
Cast and Crew
Merchandise
Official Bee and PuppyCat merchandise can be purchased online. Through Frederator's partnership with We Love Fine and Squishable[3], several Bee and Puppycat clothing items and plushies are available. Kickstarter backers received exclusive merchandise as a reward.
History
July 11, 2013: The first episode premiered as a short on the youtube channel of Cartoon Hangover.
October 15th, 2013: Frederator Studios began a Kickstarter for the series.
November 14th, 2013: The Kickstarter ended with the generous support of 18,209 Backers.
November 15th-27th, 2013: An international PayPal campaign is run.
May 14, 2014: The first comic issue, "Bee and PuppyCat No. 1", was released.
November 6, 2014: season 1 episodes 1 and 2 premiere on Cartoon Hangover.
Gallery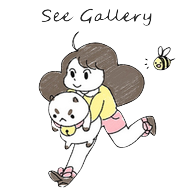 References