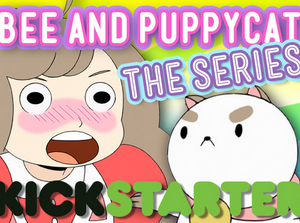 In 2013, Frederator created a Kickstarter campaign to fund the Bee and PuppyCat series.
History
The Kickstarter was started October 15, 2013, and achieved its $600,000 goal 6 days before the deadline. The minimum goal was to raise enough to create six 6-minute episodes, with any extra funding used to create additional episodes. By the end, they had raised $872,133, earning nine 6-minute episodes. The first episode will air in the summer of 2014. [1]
Rewards
Backers pledged between $15 and $10,000. They received varying rewards including access to a special Bee and PuppyCat blog, T-shirts, and a copy of the comic with a Kickstarter exclusive alternative cover.
Rewards
Pledge
Digital Membership Card
$15 or more
Bee and PuppyCat Ringtones
Kickstarter Backer's Blog
Early access to episodes
Animatic teasers
$20 or more
Soundtrack download
Thank-you postcard (optional)
Storyboard PDF's
$35 or more
Episode downloads
Physical Membership Card
$50 or more
DVD
Mini-print
$75 or more
Comic #1 w/Exclusive Cover
Signed Mini-print
$100 or more
Access to 1st screening
$150 or more
Listing on thank you page
Access to 2nd screening
$175 or more
Access to 3rd screening
$200 or more
Signed Comic #1 w/Exclusive sketch cover
$250 or more
Exclusive PuppyCat Squishable
$400 or more
Original Production drawings
$750 or more
A shirt for every episode made
$2,500 or more
Signed comics for 2 years
Access to an episode voice recording
$5,000 or more
Name in episode background
Production art from name scene
Access to an episode audio mix
$10,000 or more
"Executive Space Emperor" credit
Graphic art for credit
References
Ad blocker interference detected!
Wikia is a free-to-use site that makes money from advertising. We have a modified experience for viewers using ad blockers

Wikia is not accessible if you've made further modifications. Remove the custom ad blocker rule(s) and the page will load as expected.