| | | |
| --- | --- | --- |
| " | USE THE SWORD AS A SWORD! | " |
PuppyCat is one of the main characters of Bee and PuppyCat.
History
PuppyCat came into Bee's life under strange circumstances. After she takes care of him, he decides to help her by letting her come along on his job to make some cash. Not much is known about PuppyCat's mysterious past, but it may be tied to the fairytale that he tells.
Personality
PuppyCat is secretive and aloof. He considers himself a figure of high status, once referring to a ladybug as his "peon".
Appearance
PuppyCat looks like an ordinary cat with some minor differences. He has a cat-like body with a dog-like tail. He has a mostly white body with beige ears, thick beige eyebrows, a beige tipped tail, and beige paws. He also wears a pink collar with a yellow bell.
Abilities
PuppyCat's bell functions like an interstellar mailbox, allowing him to receive assignments from Temp-bot. He can shoot a deadly laser beam from his mouth. He can speak, but often chooses not to.
Relationships
Bee
PuppyCat meets Bee when he falls from the sky and lands on her umbrella. She takes care of him, and in return, PuppyCat takes her on a magic adventure with some serious perks. He becomes equally protective of her. After their first adventure in Fishbowl Space, they have a special bond. PuppyCat decides to stay with Bee for the time being.
Temp-bot
PuppyCat and the temp-bot have worked together in the past.
Gallery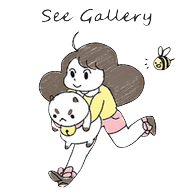 References