| | | |
| --- | --- | --- |
| " | USE THE SWORD AS A SWORD! | " |
PuppyCat is one of the main characters of Bee and PuppyCat.
History
PuppyCat came into Bee's life under strange circumstances. After she takes care of him, he decides to help her by letting her come along on his job to make some cash. Not much is known about PuppyCat's mysterious past, but it may be tied to the fairytale that he tells.
Personality
PuppyCat is secretive and aloof. He considers himself a figure of high status, once referring to a ladybug as his "peon" and calling Deckard a peasant, ordering him to carry groceries. Furthermore, he considers himself to be "cool",which he expresses when wanting a leather jacket.
He can be cold and mean, as seen in "Food", where he repeatedly ruins Bee's and Deckard's cooking. However, he does this by pushing objects from cupboards, etc., a behavior cats are known to exhibit. It is possible that due to his (current?) form, he shows cat-like behavior.
He does not appear to be a bad person, since he let Bee tag along on his Temp jobs in the first place and at least cares enough about her not to let her die during their jobs.
Appearance
PuppyCat looks like an ordinary cat with some minor differences. He has a cat-like body with a dog-like tail. He has a mostly white body with beige ears, thick beige eyebrows, a beige tipped tail, and beige paws. He also wears a pink collar with a yellow bell.
At the end of "Bee and Puppycat Part 2" his reflection is shown to look like the Space Outlaw from his fairytale.
Abilities
PuppyCat's bell functions like an interstellar mailbox, allowing him to receive assignments from Temp-bot. He can shoot a deadly laser beam from his mouth. He can speak, "kind of", as Bee puts it, but often chooses not to unless hes alone with Bee.
Relationships
Bee
PuppyCat meets Bee when he falls from the sky and lands on her umbrella. She takes care of him, and in return, PuppyCat takes her on a magic adventure with some serious perks. He becomes equally protective of her. After their first adventure in Fishbowl Space, they have a special bond. PuppyCat decides to stay with Bee for the time being. Bee appears to enjoy making PuppyCat wear cute clothes, as seen in "Food" and "Farmer", which he does not like. She tries to dote on him, but he rejects most of her attempts.
Temp-bot
PuppyCat and the temp-bot have worked together in the past. They appear to have a neutral relationship. Temp-bot may know something about PuppyCat's past, because on the first mission Bee and PuppyCat go to in the pilot of the series, Temp-bot says that PuppyCat looked "different".
Deckard
PuppyCat seems to dislike Deckard, calling him a "peasant" and ordering him around. He ruins his and Bee's cooking plans. However, he behaved this way during the first time the two of them met which was when PuppyCat was upset about not getting a jacket he wanted. Thus his actions may have nothing to do with Deckard, but his general state of mind.
Quotes
Trivia
Puppycat smells like a dog
He has no butt cleavage
Puppycat's voice is by the VOCALOID, OLIVER[3]
Gallery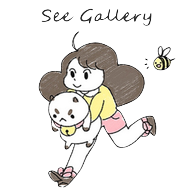 References